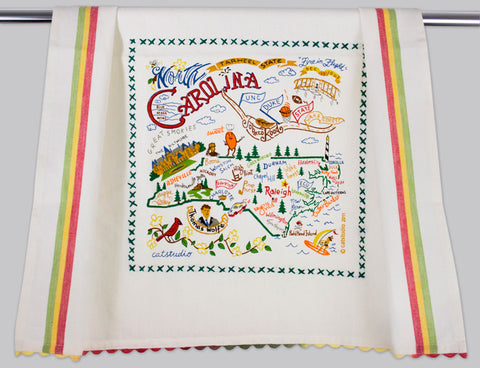 Catstudio North Carolina Dish Towel
Catstudio is proud to carry on and support the tradition of hand embroidery in this age of the machine. Each towel has an individual stamp or 'signature" like a snow flake… not that of a machine. The very nature of the production process results in a beautiful limited edition!

This design is silk screened - then framed with a hand embroidered border on a 100% cotton dish towel/ hand towel / guest towel / bar towel. Three stripes down both sides and hand dyed rick-rack at the top and bottom add a charming vintage touch. Delightfully presented in a fab organdy re-usable pouch! Machine wash and dry.

Each towels 20 inches by 28 3/8 inches in size

If you are looking for a specific detail in the art, please call before ordering. The Catstudio designs are constantly being tweaked, and we wouldn't want to send you an item that is missing a detail you were looking for.
---
We Also Recommend