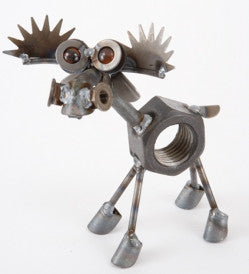 Chubby Nut Moose - C231
These recycled metal Yardbird sculptures, in the shapes of dogs, cats and all kinds of critters add expressions of fun and functionality, a decorative touch to any garden, walkway or porch.
All of the animals are bare metal and naturally rust with age, that's part of their beauty. As creator Richard Kolb says, "They rust, but they'll never run away." They are great conversation pieces, and many people enjoy trying to figure out what was used to make each component. The animals are intended to simply make people happy, and have been succeeding for over a decade.
---
We Also Recommend